Disney and Sega and Chip 'n' Dale Rescue Rangers Pictures' movie-spoof of "Zootopia".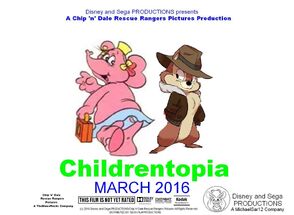 Nick Wilde - Chip (Chip 'n' Dale)
Judy Hopps - Nellie the Elephant
Chef Bogo - Bagheera (The Jungle Book)
Leodore Lionheart - Scrooge McDuck (DuckTales)
Yax - Boni (The Trap Door)
Mrs. Otterton - Jeopardy Mouse (Danger Mouse)
Dawn Bellwether - Mrs. Toad (Thumbelina)
Gazelle - Fern Arable (Charlotte's Web)
Officer Benjamin Clawhauser - Paddington Bear
Officer McHorn - Admiral DeGill (Atomic Betty)
Stu Hopps - Tobermory (The Wombles)
Bonnie Hopps - Madame Cholet (The Wombles)
Duke Weaselton - Sinister Mouse (Danger Mouse)
Mr. Big - Hopper (A Bug's Life)
Fru Fru - Tinkerbell (Peter Pan)
Gideon Grey - Ethelred (The Talking Parcel)
Flash - Berk (The Trap Door)
Priscilla - Princess Sylvia (Muzzy in Gondoland)
Jerry Jumbeaux Jr. - Hudson Horstachio (Viva Pianta)
Doug - Caractacus P. Doom (Avenger Penguins)
Finnick - Frank the Filthy Flower (Zit the Video)
Frantic Pig - Eeyore (Winnie the Pooh)
Dr. Madge Honey Badger - Tigress (Kung Fu Panda)
Young Judy Hopps - Emily Elephant (Peppa Pig)
Young Nick Wilde - Dale (Chip 'n' Dale)
Emmitt Otterton - Danger Mouse
Otterton Children - ??? and ???
Judy's 275 siblings - Peppa Pig Characters, Muppet Babies Characters, Ella the Elephant Characters, Babar and the Adventures of Badou
Manchas - Silly the Rat
Peter Moosebridge - Sam the Hyena
Kozlov - Henry O'Hunny (Bugz!)
Raymond - Pumbaa (The Lion King)
Kevin - Goofy (Disney)
Mouse Foreman - Alvin (Alvin and the Chipmunks)
Bucky Oryx-Antlerson - Ozzy (Fun Song Factory)
Pronk Oryx-Antlerson - Archibald the Koala
Landlady - Foxglove (Chip 'n' Dale Rescue Rangers)
Nangi - Miss Bianca (The Rescuers)
Young Gideon Grey - Demetan (Demetan Croaker)
Transcript
Edit
Ad blocker interference detected!
Wikia is a free-to-use site that makes money from advertising. We have a modified experience for viewers using ad blockers

Wikia is not accessible if you've made further modifications. Remove the custom ad blocker rule(s) and the page will load as expected.